Click on the image above to learn how New Yorkers Are Coping.
Story at-a-glance
Around the world, huge numbers of people are protesting vaccine mandates and passports

New York City has seen large protests in the wake of its vaccine requirement for restaurants and other public venues. Among those protesting are firefighters, first responders, correctional officers, police officers, and sanitation workers

Among city sanitation workers, 38% remain unvaccinated. Unless they're fully "vaccinated" by November 1, 2021, they face being placed on unpaid leave. While catastrophic, losing half the sanitation department may also force New York to rethink its ill-advised mandate

While there's no one-size-fits-all solution, some general suggestions can be made. Available solutions can be divided into four main categories: legal challenges, workarounds that don't require you to face the issue head-on, protests, and demonstrations, and mass noncompliance

Mass noncompliance is the only strategy that can save us in the long run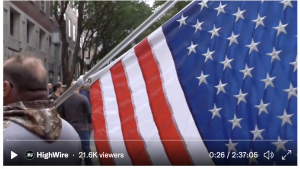 NYC WORKERS ANTI-MANDATE MARCH FOR CHOICE New York City sanitation workers, firefighters, police officers, EMS personnel, and correctional officers gather in protest of New York City's COVID-19 vaccine mandate.