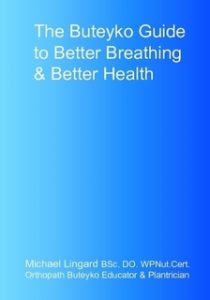 COVID-19 Recovery of breathing aid: FREE BREATH TRAINING PODCAST, based on the proven Buteyko Method, 15 Episodes "Better Breathing Means Better Health" on all major podcast apps.
There is an accompanying book "The Buteyko Guide to Better Breathing & Better Health" for reference and recording your exercises, available HERE but not necessary, you can record exercises on any jotter if you don't want the additional background information.
Since the Buteyko Method of breath-training has helped COPD an asthmatics throughout the world it should be a valuable aid to improved lung function for all respiratory problems. Ideally, I would advise those interested, to find a Buteyko Educator for 1-2-1 training but meanwhile, anyone can start on this health improvement journey with this free podcast. This podcast can be accessed on my website HERE, where you can find more information on the Whole Plant Nutrition approach to dietary improvement as well as much more health promotion news. Check out my 1-2-1 Skype Training Programme if you feel you need more support in the training.