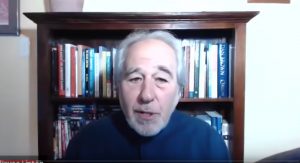 Click on the image above to watch the full video.
A crystal clear explanation of what the COVID-19 really is, its relationship to the common cold and flu, the effect on each one of us, the effect of the fear generated by the media and governments, and how can we all improve our response to this pandemic.
This is the author of "Biology of Belief" one of the most important insights into life and health. If you want to deal with this "panic-demic"  better yourself, watch this and his other videos on YouTube. Learn more about how to deal with your fear, check out "The Breath Connection", improve your immune system check out "The Food Connection" and get adequate sleep, reasonable physical exercise, take Vitamin C and Vitamin D.
Get Bruce Lipton's latest update video on YouTube (October 2020)  HERE  If you want to keep up to date on this and all health matters why not join the Bruce Lipton Group? HERE